We have had another blessed year, and as we come to the end of our Christmas Eve – we realize it even more.
We ate some great food, visited with friends, and opened many gifts. Kaden has been trying to make sure Ava understands all the in's and out's of Christmas.
They are all tucked in their beds, mom and I are awaiting the fat man's job to be done. Then we are headed to ours.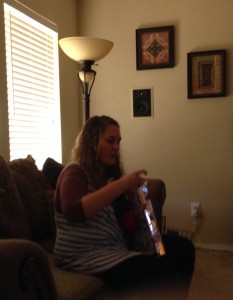 Keagan got a bunch of clothes she wanted for Christmas Eve. She was pumped and had to try them all on to make sure we approved of the outfits for school and church. These "leggin'"  things are a little – revealing – sometimes.
Kaden said he has had the best Christmas ever so far. He got an Easy Bake Oven. I was a
little worried about this, but it is black and the boys version. We have already made Chocolate chip cookies in it. He was asking about making jerky in it….maybe some time.
Ava Grace is just beside herself with all the action – and mess. She is enjoying her new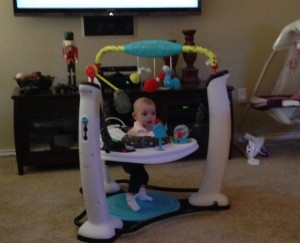 playset thing. She has been singing songs with us and loves iPhones when they play youtube videos of Christmas songs.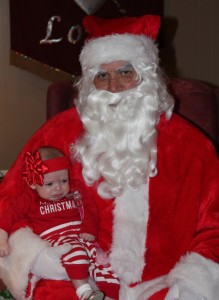 The wife got all she wanted in new Fiesta dishes, cast iron cookery, and Duck Dynasty stuff this year. Yeah, we are rednecks – and proud to be.
She will have to take a few back to exchange for different colors. I could not remember what we had and what we didn't. She told me I did a good job. (LOL points….but still in the negative I am sure)
I got some new jeans and a new iPad Air (64GB with cellular). I also scored some new jeans and all. I needed the jeans. Somehow I rip holes in mine in places, well lets just say awkward places.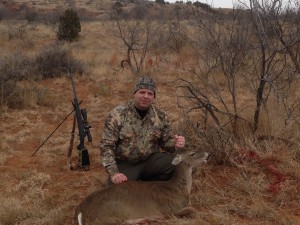 I did spend a very cold and icy weekend out deer hunting last weekend too. Season still going. We have had a late start as I mentioned last post. I busted a doe at about 330 yards. Which then had me and William dragging her back up and over 3 canyons. LOL Great shot, just not ideal on her final resting place.
Eric got a late start that day, but showed up as we were setting up camp. So he did not hunt that day.
That night we camped out in freezing rain. We used our country, poor boy thinking to quickly build a fire and a 'tee-pee' style cover out of old tin and some fence gates. Kept us dry, kept the fire going, and helped block some wind.
Once we had that up, we through some coffee on the fire – and a backstrap and loins. That made us fat and happy. We turned in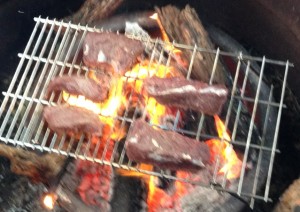 shortly after that – to find nice, dry, warm sleeping bags.
Hope to get back out there for the last weekend and put a few more in the freezer. Also looking to buy a new tent for the camp. A MGPTS with a heater. That's what we have decided on anyway. We will be much better off with one of those. These little tents we have now are made for camping in San Diego I think. Not West Texas weather.
Well this fat man is going to bed so he can wake and enjoy the other fat man that is scheduled to break in the house again tonight.
Merry Christmas. May you be blessed more than we are.